Hello There!!! I hope this update finds everyone well and happy!
Well, my new Briggs & Stratton 12kw standby generator is now fully installed!! Clayton Preble, owner of GenSpring Power in Jasper, Georgia (near Atlanta), showed up early Wednesday morning with the unit on his trailer, ready to install. We sure picked a cold morning to set it up, but by the time we were done it had warmed up to a brisk 40-degrees.
Clayton and his sidekick, Joe (an aspiring young writer), built a small pad out of 6-by-6 pressure treated timbers filled with pea gravel. Once the gravel was in, the generator was set in it, and leveled. Clayton explained that not only did the gravel look cleaner than a typical concrete pad, but the small stones also helped absorb the vibration of the generator, greatly reducing any noise. In fact, the generator already ran quietly due to the great design of the engine and the insulated housing, and now the gravel makes it even more quiet. Now all that was left to do was run the natural gas and run the wiring.
When you're shopping for and purchasing a standby generator, it's important to deal with someone that you feel like you can trust, and someone that knows their stuff. Clayton Preble at GenSpring Power is the perfect example. He started his business 2-years ago after retiring from a successful career with Atlanta Gas Light. He has doubled his customer base from the first year to the next, and he's just simply a good, honest family man that works hard. I have no problem whatsoever in recommending Clayton Preble at GenSpring Power, 770-845-7461. His website is www.genspringpower.com. Tell him I said, "hi".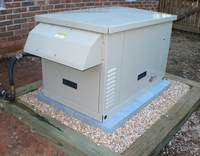 Prior to setting the generator, we made sure there was plenty of room in that area of the yard and also made certain that the exhaust was well away from any openings into the home. It was perfect because the location we chose was only a few feet from the natural gas meter which meant that Charles, our plumber, had to run only a few feet of pipe.
One of the many great features of this system is that is runs off of natural gas or propane. I hooked up to natural which means I'll always have fuel to run it...I'll never have to fill the tank with gasoline like I do with the portable generators AND I'll never be without power. If the utility power goes off, I'm up and running AUTOMATICALLY within 30-seconds. When the utility power comes back on, the generator automatically shuts off. I should've gotten one of these years ago.
The three electricians that actually pulled the cable and hooked up the unit were the best. The way it's wired enables the generator to run my entire home. Casey, Randy and Richard worked non-stop to be sure the project was finished in one day...and they made it. They showed up about 7am and were done around 4pm. Special thanks to Gordon Donaldson of Donaldson Electric, for all the special treatment. He visited the site twice before the actual install, to make sure all of his team had their "ducks-in-a-row". Once it was all hooked up, we conducted a test and Clayton ran me through a quick tutorial to be sure I understood all the features and the operations.
I've gotta tell ya...if you don't have a Briggs & Stratton standyby generator...try your best to get one. They are worth their weight in gold. Briggs & Stratton has proven to me time and time again that their products are second-to-none and they back their products with an impressive warranty. Thank you Matthew and Brandon for walking me through this one!
Drop me an email if you get a minute and let me know what's going on in your world. Be sure to catch Room To Improve, Sundays at 8:30am ET, Before & After, Sundays at 9am ET, and Fix-It-Up, Saturdays at 8:30ET.
Best Regards,